How to Clean The Mirror at Home? Have you ever wondered how to clean the mirror at home? We sure have! After all, a clean mirror is essential for a bright and polished look. Not only will it make your bathroom or bedroom look more inviting, but it will also help you start your day on the right foot.
How often you clean your mirror depends on how dirty it gets, but we recommend doing it at least once a week. In this blog post, we'll show you three different methods for cleaning mirrors – including one that doesn't require any cleaning products! Having said all that, let's get started!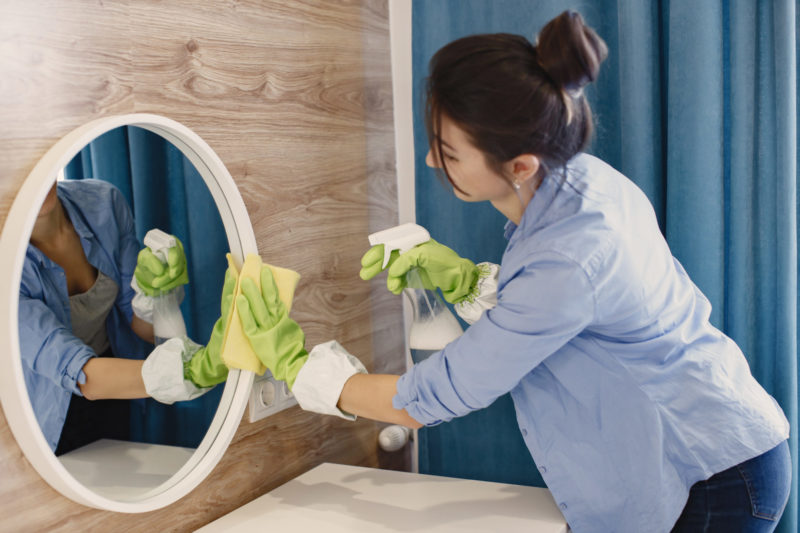 What to Clean a Mirror With?
How to Clean The Mirror at Home? You can use a variety of different things to clean your mirror – from store-bought cleaning products to items that you probably already have at home. For a streak-free finish, we recommend using:
Vinegar

Water

Glass cleaner (preferably Windex)

Rubbing alcohol

Microfiber Cloth
Having said all that, here are a few different ways you can clean your mirror.
How to Clean The Mirror at Home and What are the Different Ways to Clean Your Mirror?
Method 1: Vinegar and Water
How to Clean The Mirror at Home? This is probably the easiest method on this list. All you need is equal parts vinegar and water, along with a microfiber cloth or paper towels. Simply mix the vinegar and water together in a bowl or shaker bottle and dip your cloth or spray it with the solution.
Ideally, consider using a microfiber cloth for best results. Once the solution is applied, wring it out so that it's damp, not dripping wet, and then start wiping down the mirror.
For the wiping technique you can either do it in a crisscross manner or using the S-pattern method where you start at the top of the mirror and work your way down. Make sure to apply a generous coat of solution and to wipe down your mirror thoroughly for maximum cleanliness.
Method 2: Windex or Other Glass Cleaner
How to Clean The Mirror at Home? If you have a Windex or other glass cleaner this method be better for you. If you happen to have a generic glass cleaner that's totally fine – just make sure it's one that doesn't contain heavily concentrated ammonia.
This is largely because ammonia can severely damage the mirror edges and backing which can result in a damaged mirror and streaks overtime. As a result, we recommend using Windex or another similar product. In order to apply the Windex to your mirror consider the following steps:
Spray your Windex or glass cleaner directly onto your cloth. This is much better than spraying directly on the mirror which can create black tarnish marks.

Next, you want to wipe the mirror down in a crisscross pattern. To do this efficiently make sure that you start at the top of the mirror and work your way down. When doing so, be sure to use a clean, dry cloth to wipe away any streaks and to clean your mirrors thoroughly. For the best results, make sure to use a quality microfiber cloth and to get an even coat of Windex/cleaning solution on every swipe.
Method 3: Rubbing Alcohol
How to Clean The Mirror at Home? If you don't have any vinegar or glass cleaner on hand, then you can always use rubbing alcohol as a last resort. This method is a bit more harsh than the others, but it will still get the job done. If anything, rubbing alcohol is a great solution to use if your mirror has globs of toothpaste, hairspray, or heavily smeared finger prints spots.
All you need is some rubbing alcohol and a microfiber cloth. Simply pour some rubbing alcohol onto the cloth and then start wiping down the mirror. As with the other methods, we recommend using a crisscross pattern or the S-pattern method for best results. Just be sure to use a clean, dry cloth to wipe away any streaks and to finish cleaning your mirror.
Method 4: Microfiber Cloth
How to Clean The Mirror at Home? If you suffer from stubborn streaks consider using a thin microfiber cloth which is not only efficient in cleaning but also more effective at not holding any lint or other particles that could transfer to the mirror and contribute to future problems.
Overall, this is one of the simplest and most effective ways to clean your mirror and a complimentary tool for any of the other cleaning methods mentioned above.
How to Clean The Mirror at Home and How Often Should You Clean Your Mirror?
How to Clean The Mirror at Home? The frequency of cleaning your mirrors depends on where your mirrors are in the house. For instance, bathroom mirrors which are common attractors for unwanted particles and dirty spots will probably need to be cleaned daily.
On the other hand, decorative mirrors around the house may only need to be cleaned once every week. Other factors that will influence your frequency of cleaning will include things like your environment (if you live in a dusty area or have pets that shed, you may need to clean your mirror more often.) as well as how many people use the mirror on a daily basis within your household.
Overall, the most important thing is to make sure that you are prioritizing your mirror cleaning and doing it on a consistent basis.
Conclusion
In conclusion, mirrors are an essential part of any household and should be cleaned regularly to ensure that they remain in pristine condition. By following the methods above you can easily and effectively clean your mirror at home without any streaks or smears.
Just be sure to select the appropriate cleaning method based on the severity of the spots or dirt on your mirror as well as the type of mirror you have. With a little bit of care and attention, your mirrors will stay looking shiny and new for years to come!
If you reside within the North Vancouver area and need a cleaning services North Vancouver company, contact us today and let us help you make your mirrors spotless! To check out our Google reviews click here.
Happy Cleaning!
Thanks For Reading!
We hope this article was helpful. For more info, feel free to check out some of our other blog posts down below!
Additional Resources
To learn more about our services that we offer at ProClean check out the resources down below!