Pressure washing what is it? Have you ever heard about it? If no let me give you a brief idea about the concept of pressure washing and how you can choose a service provider for accomplishing your task. To know or learn about this particular concept what you need to do is have patience and go through this article to understand the entire aspect of pressure washing. Scroll down your mouse and read it carefully.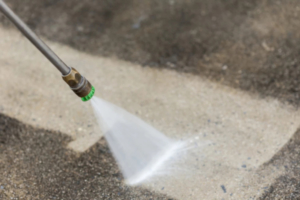 What is pressure washing?
Simply to narrate, pressure washing is a technique of  making use of high-powered jets of water to promptly  clear mud, dust, sludge, algae, and other residues from surfaces. The best part of pressure washing is that you can wash or clean each item with utmost precision. Moreover, it takes a short span of time in order to complete the entire cleaning task. 
The "pressure" part is what makes this genre of cleaning service a special one. It is so much more effective than just regular washing with water and detergents or elbow grease. Moreover, the ability of the jets of water to reach into tiny nooks and cracks and blast out all hidden dirt present out of sight is indeed amazing. As you intend to use this particular form of cleaning service I can say you will simply love it. 
In pressure washing usually, the washers produce pressures from 750 to 30,000 pound-force per square inch, or in short psi. If you are looking for an in-depth cleaning service either for your home or office then trust me this particular cleaning method is apt for you. If you are residing in Vancouver then pressure washing cleaning in Vancouver can help.  
Now the question arises how to find the right service provider in Vancouver? Let's take a look. 
Tips of Hiring pressure washing cleaning service provider in Vancouver
Make sure they are insured
Accidents may occur anytime or all of a sudden. Due to an accident one may face various types of damages, which may occur as a result of lack of expertise and even due to lack of attention to minute detail. But as you hire a professional service provider their insurance will help to cover any type of damage that comes as a direct result of inappropriate actions on behalf of the pressure cleaning technician. So, you can stay relaxed.
Make sure they have the required knowledge
Try to verify beforehand that the technician you are going to hire has been educated on the various tools and techniques of the particular form of washing and on various techniques involved in pressure cleaning. 
As you are intending to hire such a service be very sure to check past references. As you have a thorough conversation with the previous client base of the company you can well understand their method of working or operation. And can likewise proceed.
Checking their documents is mandatory before hiring. Make sure they have the proper license to carry out the entire task aptly. 
Follow the above-mentioned tips and you can also hire ProClean, a renowned name when it comes to cleaning related service providing or pressure washing cleaning in Vancouver.