When it comes to keeping your apartment clean, utilizing apartment cleaning services is a great way to keep your apartment looking its best while freeing up your time so you can focus on what's really important. Whether it's a deep cleaning or just a light touch up, we have the expertise and cleaning products needed to get the job done quickly and efficiently, leaving you with a spotless apartment all year long.
Our cleaning services cover everything from general dusting and vacuuming to window washing, oven scrubbing, and more. We'll even take care of any hard-to-reach spaces like blinds or ceiling fans, so you don't have to worry about a thing.
For apartment and condo cleaning you can trust, contact us today. Our friendly staff will work with you to create a personalized condo cleaning plan that fits your budget and schedule. Experience the difference of professional apartment cleaning with ProClean today!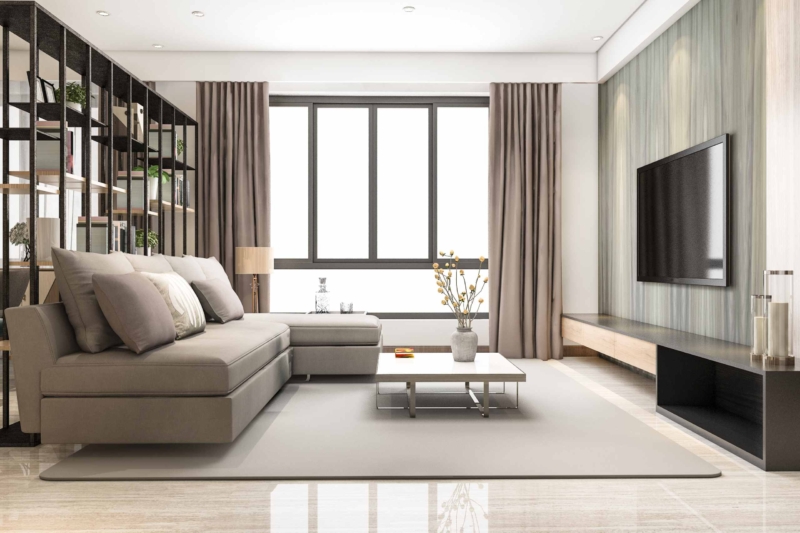 Our Apartment and Condo Cleaning Services
Keep your apartment and condo living space completely sanitary with our apartment cleaning services. We'll leave no corner unclean, ensuring your apartment and condo always looks its best. Our apartment and condo cleaning services include:
A thorough cleaning of your bathroom and kitchen.
This includes scrubbing showers, tubs, sinks, and toilets as well as cleaning floors and surfaces. We'll also remove any mold or mildew that may have built up over time.
Complete vacuuming of every room
This involves vacuuming carpets, rugs, and hardwood floors. This will help remove any dirt, dust, and allergens that may be present in your carpet fibers.
Detailed dusting of all surfaces
We'll dust windowsills, shelves, furniture, and any other surfaces in your apartment or condo. This will help reduce allergens in the air and keep your apartment looking immaculate.
Window washing
We'll make sure all of your windows are sparkling clean, inside and out! We use special solutions to ensure they stay streak-free.
Spot Cleaning
We can take care of any stubborn stains or spots that need a little extra attention.
When choosing to work with us you can be rest-assured that no cleaning job is too big or too small for us. Contact us today to get started on creating your personalized apartment and condo cleaning plan! We look forward to helping you keep your apartment looking its best all year long.
Why Choose Us as Your Apartment/Condo Cleaners of Choice?
At ProClean we are highly rated by the better business bureau (BBB) and have been rated among the top 3 cleaning companies in Vancouver. We are also highly-recommended and offer top-notch customer service to all of our customers. To check out our Google reviews click here or book a clean today!
How Much Does Apartment Cleaning Cost?
At ProClean we strive to provide a unique cleaning service for all of our customers. Our rates are as follows:
$80 / hr with 2 cleaners
$120 / hr with 3 cleaners
$30 for the inside of appliances (oven, microwave and/or fridge)
If you have any special requests specific to your unique condo needs we urge you to contact us. Having said that, click here to request a free quote today!
Frequently Asked Questions
How often should I get my apartment cleaned?
We recommend getting your apartment deep-cleaned every 3 to 4 months. However, if you have pets or children we recommend cleaning your apartment more frequently. We can help create a personalized cleaning schedule that fits your needs and budget!
What kind of apartment cleaning products do you use?
We only use high-quality, eco-friendly apartment cleaning products. All of our products are safe for children and pets so you can rest assured that your apartment will be spotless without being exposed to any harsh chemicals.
Do I need to provide my own apartment cleaning supplies?
No, we will bring all the necessary cleaning supplies. All you need to do is point us in the right direction and we'll take care of everything else!
How do you deep clean a whole apartment?
Our apartment cleaning process is second-to-none. We begin by decluttering your apartment to make the cleaning process easy. Once everything is decluttered , we vacuum and dust every inch of the apartment to remove any allergens. Following this we mop all of the floors to remove any dirt or stains and follow up by deep cleaning both the bathrooms and kitchens. In particular we make sure to pay special attention to countertops and tile surfaces. Finally, we spot clean carpets and furniture if needed. This is just a basic overview of our apartment cleaning process; we'll provide a more detailed version of the process once we begin working with you.
What is the fastest way to deep clean an apartment?
In order to deep clean your apartment fast, you need to be motivated to do it to the best of your ability. With that said, here are the main tips to consider if you opt to clean your apartment or condo:
Motivate yourself
Declutter your rooms
Dust and scrub
Prioritize floor cleaning
Remove any excess trash
Seek professional cleaners
How long does it take to clean a whole apartment?
It typically takes three to four hours for us to thoroughly clean an apartment. However, the time can vary depending on the size of the apartment and any special requests you may have. We urge you to contact us to discuss your specific apartment cleaning needs.
Do I need to be present during apartment cleaning?
No, you do not need to be present during apartment cleaning. All of our apartment cleaners are licensed and insured so you can rest-easy knowing that your valuables are safe. With that said, if you have any special requests or need to provide access to your apartment we will be in touch with you prior to the scheduled appointment.
How Can I Learn More About Your Apartment Cleaning Services?
To learn more about our apartment cleaning services feel free to check out our social media, GMB and blog links down below!
You can also contact us here or give us a call at 778-710-7762.
Additional Apartment Cleaning Resources: