How to Clean Brickwork On The House? Do you have brickwork on your house that needs some love? If so, then this blog post is for you! Knowing how to clean brickwork properly can keep the look of your home looking beautiful and well-maintained. It's not just about keeping up appearances either – proper cleaning and maintenance of exterior brick surfaces will help protect them from moisture damage and structural issues over time. 
This blog post will cover all the essential steps surrounding cleaning brickwork on your house and helpful tips and tricks along the way. So if you want to give your exterior a makeover with minimal effort involved and get it ready for whatever life throws at it this year – read on!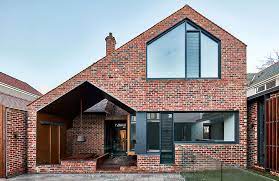 How To Clean Brickwork On The House: Essential Tools To Clean Brickwork On The House
How to Clean Brickwork On The House? Brickwork is one of the most common house materials in the world and one of the most beautiful. It's been used on homes for centuries and has helped shape neighborhoods, cities, and even countries.
But brickwork is not just an aesthetic delight: it also has to be maintained well if you want to enjoy its benefits for years to come. So here are some of the tools you'll need for cleaning brickwork on your house!
For Interior
Vacuum or Broom 
If there are cobwebs around doors or windows, use a vacuum cleaner to get rid of them quickly and easily. You can also use a broom if you don't have access to a vacuum cleaner—just be sure not to knock over any items in your path!
Spray Bottle Of Water
A spray bottle filled with water is one of the best ways to clean interior brickwork. You can use this tool to spray through any grime clinging to your bricks and remove any stains or smudges on them.
Grout Sponge
If you have grout between two pieces of brickwork, then a grout sponge is a great way to clean it out! Scrub any dirt or grime between the bricks until they're nice and clean again!
Dish Soap
Brickwork can get dirty pretty quickly, so make sure you have a bottle of dish soap on hand to use when it's time to clean. You can use regular dish soap, but if you want to get the job done faster (and with less elbow grease), try using an oxygenated cleaner for brickwork. Just spray it on and wipe it away!
Nylon-bristle Brush
This Brush works great for scrubbing hard-to-reach areas where dirt tends to gather. It has little bristles that will get in between the bricks and get them squeaky clean!
For Exterior
Detergent 
It helps remove grime and dirt from the surface of bricks while also keeping them looking bright and shiny. 
Grout Sponge
It will help you scrub dirt trapped between bricks and grout lines.
Bleach 
It can be used on interior walls made of drywall or plaster. The bleach will remove stubborn stains and make your walls look crisp and clean.
Nylon-bristle Brush
It is useful when working with bleach on interior walls. They will help you scrub dirt and grime without damaging the surface of your walls.
Rubber gloves & Goggles
These will protect your hands from chemicals and other substances that could damage them. Goggles protect your eyes from dust, debris, and any splashing water.
There you have it, and you have the essential tools for both interior and exterior cleaning. With these items, you can make your home look bright and shiny. Happy cleaning!
What You'll Do: Easy Steps To Clean Brickwork On The House
How to Clean Brickwork On The House? Brickwork isn't always easy to clean up. So many different colors and shapes can make your cleaning job more challenging than necessary.
If you are looking for ways to clean brickwork on the house, there are several easy steps that you can follow for both the interior and exterior.
For Interior
Step 1: Remove the Dust and Dirt
Using a vacuum cleaner or broom, remove the dust and dirt. Then, wet the brick using a spray bottle filled with water. 
Step 2: Apply the Solution
Depending on the brick's dirty, use a cleaner of your choice. Then, using a grout sponge, gently clean the brick with warm water and a bit of dish soap.
Step 3: Scrub and Rinse
Scrub dirt away with a nylon-bristle brush if necessary. And allow the brick to dry after a final warm water rinse with a clean sponge.
For Exterior
Step 1: Clean the Brick
Use the pressure washer to clean the brick between 500 and 1000 PSI. 
Step 2: Apply the Detergent
Apply the detergent to the wall and let it sit for a few minutes, as directed on the packaging.
Step 3: Rinse the Surfaces
Using a garden hose, rinse any detergent residue from other surfaces, such as the patio or driveway.
Step 4: Apply the Bleach and Scrub
Mix one tablespoon of bleach in a gallon with warm water, then apply it with a sponge, then scrub gently with a nylon brush.
Step 5: Rinse the Surfaces
Rinse the bricks with warm water. Rinse again for the best result.
NOTE:
Pressure Washer: Some bricks cannot be used with pressure, such as in a historical and old home. It is better to ask a professional like Pro Clean for guidance and effective results.
So, these easy-to-follow steps will help you to clean your brick in no time, with the right tools and an understanding of how to clean brick properly. You can easily clean your brick at home and make it look brand new.
Remember, if you are busy and need more time to clean it, Pro Clean is here to help. We are a professional cleaning service and can take care of all your needs, from deep cleaning to essential maintenance! 
Frequently Asked Questions – How to Clean Brickwork on the House
What Is Brickworks?
How to Clean Brickwork On The House? Brickworks is a material that is made from clay and sand. It is fired in a kiln to form hard ceramic bricks. These bricks are used for building houses, walls, and other structures. Brickwork can be colored or left white, depending on your preference.
How often should I clean my brick? 
How to Clean Brickwork On The House? Brick is a porous material, and harsh chemicals can damage it. Therefore, we recommend only cleaning your brick once every few years. If it is filthy, consider a more intensive cleaning service here at Pro Clean.
How much does it cost to clean brick?
How to Clean Brickwork On The House? The cost of cleaning brick varies depending on the size of your home, the condition of your brick, and whether or not you want additional services such as pressure washing. You can speak with one of our experts over the phone for a free estimate. We know everyone has different budgets, so we want to ensure we do what is best for you!
Our experienced team is available whenever you need us, so don't hesitate to contact us! We guarantee top-notch quality work every time and strive to build lifelong relationships with each of our customers.

Conclusion
If you have a busy schedule cleaning your rubber gym floor, you can also reach out to us, and we'll be happy to help you out. You can also find more information about our house cleaning services below: